Robot Unicorn Attack 2 hands-on
3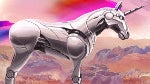 It creeps out of nowhere sometimes, but when it does, we bet our money that you're wishing that you had something really fun to preoccupy yourself with. When boredom hits, it can seriously have consequences that can cause you to perform slowly at work. Well folks, if you need something to pass by the time, so you're not twiddling your thumbs together for fun, then you should absolutely kill the time with
Robot Unicorn Attack 2
for iOS.
At its core, Robot Unicorn Attack 2 doesn't require much brain power, as its controls scheme is mainly reserved to two functions –
jumping and dashing
, that's all! In this sequel, it pretty much follows the same premise as its predecessor with its
endless runner style game play
. Controlling a mechanical unicorn with a rainbow-like mane, we're constantly at our wits trying to get our equine friend through the level unscathed – while picking up those all too useful star bursts along the way. However, the strategy portion of the game is found in perfectly timing our jumps and dashes, so we're able to dodge enemies and different obstacles along the way.
Visually, we appreciate the
colorful 2D animation
of the game, which is further complemented by its
strange toned music
in the background. For those of you that have a lot of time to kill, you'll love that there are various power ups, extras, and enemies to tackle as you progress through the game. In the end, though, we're merely just
trying to beat our old high score
, which makes the entire game just so addictive right from the onset. Thankfully, you can pick up the game through the App Store for the
oh-so lovable price of free
. So why not check it out?
source:
iTunes