Robot Unicorn Attack 2 hits iOS
8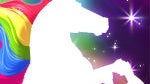 Robot Unicorn Attack was one of the most fun and absurd endless-runner games to come to mobile, and [adult swim] has finally made a sequel. Robot Unicorn Attack 2 is only available on iOS right now, but it offers quite a lot to gamers including better graphics, more annoyingly addictive music, more game modes, customization, and even something of a storyline this time around.
This time around, there are two teams: Team Rainbow and Team Inferno. The gameplay itself is similar, but now there are coins (tears) to collect which can be spent on upgrading and customizing your unicorn. There are enemies to fight, and 12 different boost abilities. Every day changes the level layout, and you compete online for prizes by beating the other team.
One of the standout features of the original was the song "Always" by Erasure, which played as the background music. Apparently, the licensing fee of that killed the dev team's aim of making the game free-to-play, and instead, they've decided to go with in-app purchases. There are a bunch of songs that you can purchase for 99 cents each, as well as a couple of tear packs
If you want to try out Robot Unicorn Attack 2, it's available in the
iTunes App Store
for $1.99.