Report: Innolux to deliver 4.7-inch on-cell display for the Apple iPhone 6
32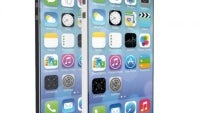 Reports out of China claim that Apple has enlisted the trio of LG Display, Japan Display Corporation, and Innolux to produce a special type of display for the upcoming iPhone 6. This year, Apple is going to use a Touch-On display, based on on-cell technology, instead of in-cell tech. The difference here is that the new technology lets manufacturers position the touch-responsive layer directly into the outer glass, which could allow for faster touch response and a better overall picture. The details are rather slim as to what Apple and its display partners will be doing exactly, but it seems the iPhone 6's display will be more than just bigger.
Innolux is no stranger to making business with Apple, having previously delivered display panels for the iPad 2 and iPad 3. The Taiwanese supplier was chosen over Samsung and Sharp, due to the complicated relationship with the former, and the latter's inability to pass Apple's quality tests.
According to recent rumors, the 4.7-inch iPhone 6, which we're awaiting in the fall, will have a resolution of 1136x640, while the alleged 5.5-inch iPhone phablet should have a resolution of 1740x960 pixels. The bigger model should be introduced early next year.
via
G for Games