Report: Foxconn to construct third campus in Shenzhen to build Apple prototypes
3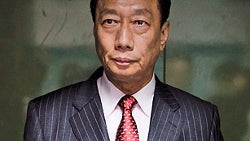 According to a report published today by the
Nikkei Asian Review
, manufacturing company Foxconn is planning on building a new factory and accompanying campus in Shenzhen, China. The facilities would include an "early-production" facility that would help Apple build prototypes. It would be Foxconn's third factory in Shenzhen, where its headquarters lie. The majority of iPhone production takes place at the facility in Zhengzhou. A source commenting on the new factory said that "Foxconn aims to better help Apple create prototypes of new products in this new campus." The company is said to be scouting for land to build the new campus on.
Meanwhile, while Foxconn chairman Terry Gou told reporters that the company is not leaving China, it is reportedly looking at ways it can move some iPhone production to the U.S. This would be done to help Apple avoid a 35% tariff on its products made overseas, but sold in the states. President-elect Donald Trump has threatened to levy this charge as a way to
force U.S. corporations to move production to the states
, thus allowing American workers to snag factory jobs. Just the other day, we told you that
Foxconn could build an LCD manufacturing plant on U.S. soil
.
But the Chinese government is applying pressure of its own. Gou turned down the opportunity to attend Trump's inauguration this Friday because the Chinese government is pressuring the country's top businessmen not to move facilities to the U.S. to appease Trump. Even with speculation that Foxconn is trying to devise a way to build the iPhone in the U.S., Gou told reporters that "Foxconn will not leave [China]. Foxconn will stay." Those in the know say that Gou wants to meet Trump, and that his decision to skip the inauguration came after he met with a high-ranking Chinese official.
source:
NikkeiAsianReview
via
AppleInsider