Rejected: Judge Koh denies Samsung's request for a stay of damages retrial
24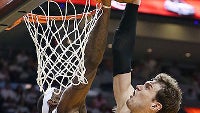 Last week,
a jury awarded Apple $290 million
after a quick retrial that centered on damages that Apple was supposed to receive from Samsung following the original patent trial between the two tech titans. That trial
resulted in a jury award of $1.05 billion in favor of Apple
.
Judge Lucy Koh tossed $450 million of the award
and ordered the damages retrial after inconsistencies were discovered between the number of patents certain Samsung devices were found to have infringed on, and the damages that were awarded to Apple for these particular models.
Last week, while the case was going to the jury, the USPTO issued an advisory action which invalidated the '915 pinch-to-zoom patent. Samsung quickly filed for an emergency hearing to stay the trial since the patent is involved in the suit. Samsung says that Apple has only one last place to appeal the decision although the Cupertino based tech giant actually has a few options left open to reverse the USPTO's decision, according to the Judge.
"As discussed above, Apple won a jury verdict in August 2012 in which a jury found that Samsung had infringed, among other things, various Apple patents and that Apple's patents were valid. Yet one year and three months later, due to the necessity of a retrial, Apple still has received no damages award as compensation. Further delay of relief due to a stay of this entire case pending a final decision on the '915 patent would thus substantially prejudice Apple. Samsung's arguments to the contrary are unconvincing."
-Judge Lucy Koh
Judge Koh, in rejecting Samsung's request for a stay of the trial, says that Apple could still file a second response to the USPTO's Final Office Action. If that fails, Apple can still go to the Patent Trial and Appeal Board. And if that doesn't give Apple what it wants, it can appeal a PTAB decision in Federal Court.
The Judge finds Samsung's arguments "unconvincing" and says the best course of action is to hand down a final decision in District Court and let Samsung appeal the decision in Federal Court.
source:
Scribd
via
AppleInsider
>