Rage HD mutant-crushing rail shooter for iOS hits the App Store for $1.99
1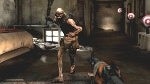 Is the world going crazy when an action-packed video game is first released for a phone and a tablet, or is this a harbinger of things to come? Rage is the first person rail shooter everybody was waiting for, considering that behind it are the iconic id Software and John Carmack, the creator of Doom and Quake.
The game has some of the best visuals possible on a mobile device, and for iPhone 4, iPad or 4th gen iPod touch owners, it is available in a Rage HD version, which takes full advantage of the A4 chipset graphics capabilities.
The plain vanilla Rage is $0.99, while Rage HD is a dollar more, but what's a buck considering the hours of mutant-crushing that the huge 746MB download promises. Most people would consider it a steal at that price, and it's sure to sell in millions.
The game will be out for PC and consoles in September of next year, and at this year's Quakecon John Carmack showed Rage HD
running on the iPhone 4 at 60 frames per second
.
Have a look at the video below for some gameplay in action.
source:
TouchArcade
Recommended Stories