3D gaming showed off on the iPhone 4 and the Palm Pixi, results may vary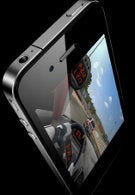 The latest version of webOS, that was released by Sprint for its Palm phones, seems to have unlocked some gaming capabilities on the Palm Pixi munchkin. Since webOS 1.4.5 brings OpenGL support to the handset, it is now able to run 3D games for mobile. Need for Speed: Undercover was installed on it to test the 3D prowess of the Palm Pixi, and it behaved quite well, with playable framerate, but slow loading times. If you are a Pixi user and have gaming pedigree, that is certainly great news.
While some are just receiving their mobile gaming capabilities, others are running Rage at 60fps. That is precisely what John Carmack from id Software (hint: DooM 1, 2 and 3; Quake 1, 2, 3 and 4) demoed with an iPhone 4 in his hands at QuakeCon 2010. Carmack was using id's Tech 5 graphics engine, and, scaled for the iPhone, the "megatexture" experience of Rage looked amazingly smooth. He even went as far as to say that the demo is able to "kill anything done on the Xbox or PlayStation 2... ". Certainly an impressive feat, if we forget that the whole action is shown on a 3.5" screen, a big part of which is to be occupied by your thumbs.
Apple iPhone 4 Specifications
|
Review
Palm Pixi Specifications
|
Review
source:
Engadget
and
Gizmodo