RadioShack starting to offer the BlackBerry 8530 for Sprint?
This article contains unofficial information.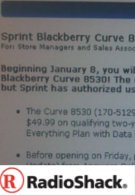 If trying to purchase the BlackBerry Cure 8530 online at Sprint's website is not your kind of thing because of the mail-in-rebates, then you may want to consider traveling to your local RadioShack's to pick one up. Not only does it look like the retailer is going to offer the handset in-stores, but it's not going to hit you in the wallets – it'll run $29.99 if you're a new customer with a 2-year agreement while upgrades are going for a mere $49.99 with a 2-year extension. The obvious services are required when purchasing the handset; like Sprint's Everything plan with data. Although it's not shown as being offered on their website, it's heard that most stores should have them readily available by now. The best part of it all is the fact that the pricing is instant – meaning no mail-in-rebates required.
RIM BlackBerry Curve 8530 Specifications
|
Review
(Verizon)
source:
CrackBerry