RIM cuts its estimates of shipments, revenue and profits for the current quarter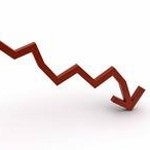 With the Apple iPhone and Android handsets
stealing the headlines
, BlackBerry maker RIM made some headlines of its own Thursday night. Only the news is not good. The company said that its shipments of smartphones will drop this quarter to the
low end
of its previous estimate which was a range of
13.5 million to 14.5 million units
.
Bloomberg reported that the
warnings
have analysts reaching for their pencils to lower their numbers. Avian Securities' Matt Thorton said, "The sales on their existing devices must have fallen off a cliff," and added that "they are getting hit by a combination of a stale portfolio and heated competition on devices."
RIM's profit estimates for the current three month period were also
below
its previous estimates. The Canadian company now sees earnings of
$1.30 to $1.37
per share
for the period vs. a forecast last month of
$1.47 to $1.55 per share
. Revenue will be lower than the $5.2 to 5.6 billion that RIM had as its prior estimate.
Not surprisingly, analyst Michael Walkley with Canaccord Genuity said that RIM's forecast shows
poor sales
for its high-end smartphones like the BlackBerry Torch 9800. RIM co-CEO Jim Balsillie was talking about the new BlackBerry devices like the Toorch and the just launched PlayBook tablet when he said, "All things being equal, we would love to have these products earlier and not be having this call. Because it's such a big upgrade, it takes longer." Speaking of the BlackBerry PlayBook tablet, the company said that it is meeting RIM's estimates of sales.
As a result of the report, RIM's NASDAQ traded stock was down
11% after hours
. The stock was trading at
$50.43
.
source:
Bloomberg
via
AppleInsider