RED Hydrogen One pre-registrations are now live on Verizon's website
7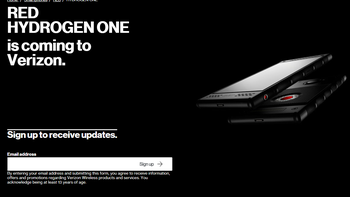 Following confirmation last month that the RED
Hydrogen One
would be carried by
both Verizon and AT&T
in the US, pre-registrations have officially commenced for the smartphone over on the former's official website.
The pre-registrations allow customers to provide
Verizon
with their email in order to receive updates in regards to the device's availability – it's currently expected to begin shipping in August, although a pre-order period will likely be announced a few weeks prior. When it comes to
AT&T
, though, the carrier is yet to open up registrations.
Now, for those unaware,
RED's first smartphone
will be available in two variants that are differentiated by their construction. The first variant, built out of aluminum, was previously up for pre-order on RED's website for $1295, while a more premium option that features a titanium build was available for a whopping $1595. For the price, consumers who purchase either offering will receive a device with a 5.7-inch
holographic display
that is capable of reproducing traditional 2D content alongside 3D content and custom RED Hydrogen 4-View holographic content. Additionally, owners of the smartphone will be able to view both 2D and 3D VR and AR. As an added bonus, thanks to a recent update that ultimately delayed the product, users will now also be able to shoot 4-View holographic content in real-time and can even use the feature within video calls.

On a side note, RED's official website does state that the current pricing model is only temporary, suggesting the Hydrogen One's cost may go up after shipments begin. If this is the case, those interested in acquiring the smartphone may want to keep an eye out for a pre-order period on either Verizon or AT&T's websites. After all, RED itself is no longer accepting pre-orders.