Verizon and Galaxy S9 score fastest vs T-Mobile, AT&T, Sprint... and iPhone X download speeds
11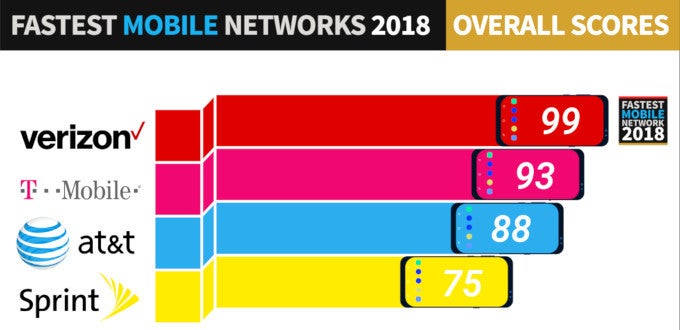 Gather around, carrier fanboys, the annual drive-by network
shooting
testing will determine who has the fastest download speeds, better coverage and reliability from the big four - Verizon, AT&T, T-Mobile, and Sprint. PCMag, whose parent company owns the makers of the
Speedtest
app, took advantage of that insider knowledge and equipped three sets of
Galaxy S9
phones with tailored software, sending them in rentals down the East Coast, through the middle states, and the West Coast.
Why the Samsung handset? Well, you apparently need a phone like the
Galaxy S9
, or the
G7
, that supports the latest LTE category speeds, and all the new rural bands that T-Mobile and others are rolling out across the country. The testers ran a comparison with the
iPhone X
, which has
a neutered modem inside
, and found out it serves much slower download speeds on average.
The methodology tests upload and download speeds, as well as ping to independent servers every 90 seconds or so, in numerous mapped locations, for at least 15 minutes at a time, as well as rural/suburban routes along the way. All in all, 88,000 test runs were made, and the results averaged for each city and region, giving a complete picture of the US carrier network landscape.
We won't spoil your deep dive in the annual carrier bash in the regional slides below but will note that there has been a huge improvement to all in the span of just a year. Average download speeds are up by the whopping 10Mbps, peak ones went from 200Mbps to 300Mbps, and, overall, latency dropped significantly, too. A harbinger of things to come with 5G? You bet.
That being said, it's Verizon that got the top score, thanks to its fastest average upload and download speeds, good reliability, and very low network latency, followed by T-Mobile, AT&T, and Sprint. T-Mobile, in particular, is the success story here, as it won or tied in almost half of the categories, indicating that potential customers for the new carrier, after
the eventual merger with Sprint
, won't be disappointed. Speaking of Sprint, its abysmal uploads chopped a lot of points off, but the download area saw a huge improvement year-on-year, including fastest speeds in some cities.