Qualcomm: Samsung Galaxy S4 to offer 1080p video capture at 60 frames per second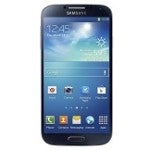 While it has never been mentioned by Samsung on any of its releases about the
Samsung Galaxy S4
, a release put out by chip maker Qualcomm says that the rear-facing 13MP camera on the new flagship Android phone captures video in
1080p at 60 frames per second
. This would make the model the first smartphone ever to capture FHD video at such a frame rate.
So what is the deal here? Did Samsung inadvertently fail to reveal something on the Samsung Galaxy S 4 that no other smartphone ever has had? That would seem to be a stretch. So then, that would mean that Qualcomm, which probably knows the Galaxy S4 inside and out, mistakenly overstated the capabilities of the phone. Either situation seems hard to believe, but one of these theories has to be right.
We have a call in to Qualcomm, Stay tuned as we try to get to the bottom of this.
source:
Qualcomm
via
GSMArena
UPDATE:
Nope, that must have been just a typo. The Samsung Galaxy S4 shoots 1080p video at "only" 30 frames per second.