'Project' iPad magazine available in Europe, U.S. shortly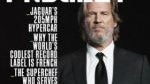 Richard Branson's iPad-only magazine, called '
Project
,' is now available on iTunes in Italy and the U.K. for US$2.99. It is also expected to be available in the U.S. (and elsewhere) within the next few hours. Branson, the man behind the Virgin empire, has also released a teaser video of the magazine's inaugural cover (see below).
When Branson initially spoke about 'Project,' he offered little detail, except that it would cover entertainment, travel, business, design, and international culture. The cover alone tells us much more about its content and style, with its banner reading "Design/Entertainment/Technology/Entrepreneurs."
Jeff Bridges (a.k.a. The Dude), will grace the first issue, with exclusive video and audio interviews about his upcoming film, 'TRON: Legacy.' Also featured are Jaguar's new C-X75 supercar, and a French record label. We don't yet know how appealing this format will be to consumers, but advertisers will surely love the ability to showcase their products in a variety of media.
'Project' is releasing as an
iPad-only
publication, but their website says it will expand to other devices in the near future. That probably means that Android will get it for their emerging range of tablets, and then Windows Phone 7, webOS, BlackBerry, etc. as their tablets become available.
source:
Engadget
Project magazine cover video from Project on Vimeo.
Recommended Stories