Poll results: Which phones from MWC 2015 did you like the most?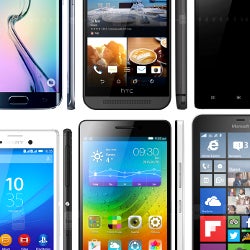 The 2015 Mobile World Congress gave its closing arguments already, bringing heaps of new devices to our divided attention, and good news is that among them we have some of the most anticipated phones this year: the
Samsung Galaxy S6
/
S6 Edge
, and the
HTC One M9
.
Not to be outdone, though, Microsoft, Sony, Lenovo, Huawei, ZTE, and many others, used the stage in Barcelona to unveil their upcoming 2015 phones - most of them in the midrange category that is all the rage now. Granted, the Galaxy S6 and One M9 took the spotlight, but there were hidden gems like the amazing
Lenovo Vibe Shot
that offers premium metal body and 16 MP OIS camera, too, but for half the flagship's price.
This is why we asked you last week which phone from the MWC 2015 you liked the most. We separated them into flagships, midrangers and entry level phones by price as, naturally, everyone would vote for one of those if we didn't. Surprisingly enough, people seem to prefer the One M9 before the Galaxy S6, but if we lump the S6 and S6
edge
together, then they beat the new HTC flagship by a large margin.
Also somewhat surprisingly, given the Lenovo Vibe Shot specs, looks and price tag, it was the
Xperia M4 Aqua
that won the hearts of value-for-money midrange aficionados, though this might be explained with the popularity of Sony's branding, too. In the entry level category, it was Microsoft's
Lumia 640 XL
that earned the accolades, with the
Lumia 640
taking second place, followed by Lenovo's
A7000
as a close third.
Samsung Galaxy S6 | S6 Edge
Price and release date: $649 / $749 off-contract ($199 / $299 w/ 2-year contract), April 10th
System chip: 64-bit octa-core (likely Exynos 7420)
Display:
5.1
-inch Quad HD
Camera: 16-megapixel main cam with OIS, 5MP selfie cam
The Galaxy S6 is a lot about a renewed focus on design: it's slim and lightweight, and it's made of fine quality materials (metal for the frame and glass on both front and back). The Galaxy S6 edge is nearly identical save for the slight curvature of the screen, the so-called dual edge design.
Both are also very powerful devices with a 64-bit octa-core chip running Android 5.0 Lollipop with an improved and simplified TouchWiz user interface, a 16-megapixel camera that now boasts OIS and a larger camera sensor, 32GB of internal storage, and other improvements.
Samsung Galaxy S6 images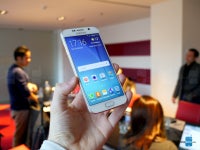 HTC One M9
Price and release date: likely $649 off-contract ($199 w/ 2-year contract), planned for mid-March
System chip: Snapdragon 810
Camera: 20-megapixel main camera, 4MP "UltraPixel" selfie cam
With a premium all-metal unibody, the beautiful One M9 doesn't stray away from HTC's gorgeous design tradition for its flagship line. For the first time in recent memory, we are also getting a high-res rear camera on an HTC finest - a 20 MP shooter - while the UltraPixel camera is moved at the front for perfect selfies. Add a scorching Snapdragon 810 chipset, 3GB of DDR4 RAM, and 32GB of storage out of the box, and the One M9 quickly elevates HTC to competitive status with any other phone thrown at it, and we didn't even mention the new BoomSound speakers with Dolby surround sound at the front.
Lenovo Vibe Shot
Price and release date: $349 off-contract, planned for June
System chip: Snapdragon 615
Display: 5" 1080 x 1920-pixel LCD
Camera: 16MP main camera with 3-color LED flash, 8MP selfie cam
The Lenovo Vibe Shot is a stylish, affordable, and, from the looks of it, truly capable camera-centric Android phone. If a 16MP BSI sensor with optical image stabilization, tri-color LED flash, and six-element lens with sapphire coating doesn't make a camera-oriented handset, we don't know what does, but the kicker is that Lenovo managed to stuff all that jazz in a premium 7.3mm thin chassis that is built of aluminum, with Gorilla Glass 3 front and rear surface. The Vibe Shot has a 5" 1080p display, a 64-bit Snapdragon 615 chipset, 3GB of RAM, and the generous 32 GB of storage.
Lenovo A7000
Price and release date: $170 off-contract, March
System chip: 1.5GHz octa-core MediaTek chip
Display: 5.5-inch 720p
Camera: 8MP main cam with dual LED flash, 5MP front shooter
The specs of the Lenovo A7000 include a brilliant 5.5" HD display with wide viewing angles, a 1.5 GHz MediaTek "true" octa-core processor paired with 2 GB of RAM, and 8 GB of storage plus memory card slot for more. Being a dual SIM device, the A7000 is equipped with two micro SIM slots, and offers 4G LTE connectivity, too.
Microsoft Lumia 640 | 640 XL
Price and release date: $170 - $250 off-contract
System chip: Snapdragon 400
Display: 5" 720p | 5.7" 720p
Camera: 8MP | 13MP main cam, 5MP selfie cam
The Microsoft Lumia 640 features a 5-inch HD display, comes in a range of vivid colors, and runs on Windows Phone
8.1
(it's set to get upgraded to Windows 10 in the not too distant future). The Lumia 640 XL is nearly identical, but with a larger, 5.7-inch HD display and a beefier battery.
Sony Xperia M4 Aqua
Price and release date: $330 off-contract, Spring
System chip: Snapdragon 615
Display: 5" 720p LCD
Camera: 13MP main camera with f/2.0 lens, 5MP selfie cam
The Sony Xperia M4 Aqua is an IP68-certified Android phone with protection from the elements. It features an 1.7GHz, 64-bit octa-core processor, a 13-megapixel main camera, 5 megapixels front shooter and supports 4G LTE connectivity.
Price and release date: N/A
System chip: 2.5GHz Snapdragon 810
Display: 5.5" 1080p LCD
Camera: 16MP main cam, 8MP selfie cam
The ZTE Grand S3 was unveiled Sunday at MWC after being launched domestically in China on January 17th. Its unique feature is an iris scanner that you can use to unlock the phone. The ZTE Grand S3 features a 5.5-inch screen with a resolution of 1080 x 1920. Under the hood is a quad-core 2.5GHz Snapdragon 801 CPU with 3GB of RAM inside. The phone is equipped with 16GB of native storage and a 64GB microSD card is available for those who require additional memory. A 16MP camera is on back and an 8MP "super selfie snapper" adorns the front of the model. The 3100mAh battery keeps the lights on and Android 4.4 is pre-installed. The phone does support LTE connectivity.
Price and release date: N/A
System chip: Snapdragon 4xx | 6xx
Camera: 13MP main cam
These two sleek-looking new Alcatel OneTouch phones come in an iPhone-esque 4.7" and 5.5" screen sizes, but the price is much more affordable. Regardless, the IDOL 3 smartphones go beyond mirroring the
iPhone 6
with the addition of JBL front-facing speakers, Harman Cardon Clari-Fi tech, 13-megapixel cameras, and something rather odd and unique - these phones are reversible.
Alcatel OneTouch Idol 3 hands-on