Alcatel OneTouch Idol 3 hands-on: Fully-symmetrical, 'reversible' design in two sizes
2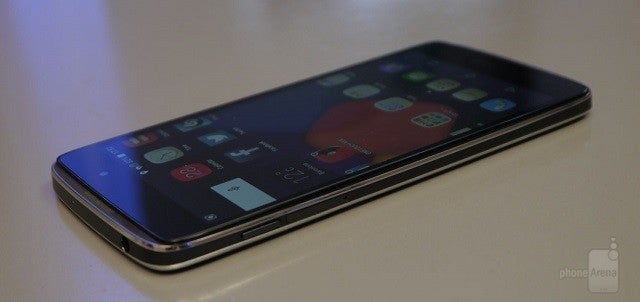 Alcatel had a whole bunch of new products to show off at MWC 2015, but a twin duo stands out – the OneTouch Idol 3 in 4.7'' and 5.5'' flavors.
The most unique selling point of the two handsets is their so-called reversibility. If you're confused, this simply means that thanks to their symmetrical designs and responsive interface, you can use them normally even if the supposed top is flipped and vice-versa. This is possible thanks to a set of front-facing JBL stereo speakers with Harman Kadron's Clari-Fi technology for better sound, both of which double up as earpieces, so you can hold a call regardless of which way you're holding the phone. Unfortunately, the power and volume keys are, of course, static, so if you use the phone on its flip side, they'll be awkward to reach. In other words, most of the time you'll want to use it as you would a normal phone.
Overall, in terms of design, we were pretty happy with what we saw. The two models are quite compact for their screen sizes and also pleasantly slim, at 0.3- and 0.29-inches, respectively for the 5.5-inch and 4.7-inch model (7.55mm/7.4mm). The phones were also grippy and sat securely and comfortably in our hands.
As with actual human twins, however, not everything about the 4.7'' and 5.5'' models is the same. Other than the difference in size, the two also offer 720 x 1280 and 1080 x 1920 pixel resolutions, respectively, though they share the Technicolor Color Enhance feature which supposedly helps with readibility even under direct sunlight (Alcatel OneTouch cited nit brightness levels of about 600 for both). Furhtermore, while the more compact version runs on a quad-core Snapdragon 410 processor with Adreno 306 graphics and 1GB of RAM, the larger model makes use of an octa-core, 64-bit Qualcomm Snapdragon 615 with an Adreno 405 and 2GB of RAM. Both devices run on Android 5.0.2 Lollipop and feature a mostly stock-like experience with a few additions of Alcatel's. While we applaud Alcatel's restraint in this regard, we do have to point out that from a performance optimization standpoint, their layout still has a way to go.
In the imaging department, we're looking at a 13-megapixel unit with a single LED flash across both models. At the front, the 4.7-incher sports a 5-megapixel snapper, while the 5.5-incher has an 8-megapixel unit on board. Both cams come with 86-degree vision, making them perfect for the occasional selfie here and there. In terms of video, you can expect normal and real-time HDR 1080p capture at 30 frames per second.
Finally, both models feature 16GB of internal storage and an option to expand upon that through a microSD card (up to 128GB more) and pack 2000 mAh and 2910 mAh juicers, respectively. The two versions will also be available in dual SIM variants.
Pricing and availability aren't set set in stone yet, though the folks over at Alcatel OneTouch told us to expect the two models of the Idol 3 stateside sometime in Q2, priced at sub-$200 and sub-$250 (4.7''/5.5'' model, respectively) unlocked and available through Amazon and their own webstore.