Poll results: LG's V20 winning over Google's Pixel XL?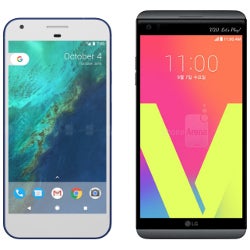 In the second half of 2016, we've got
three
two exciting phablets to look forward to — the LG
V20
and Google's
Pixel XL
. Both of these are the first phones ever to come out with Android Nougat out of the box and both have their own spin on the operating system. Obviously, LG went with its well-known LG UX, while Google introduces its own
Pixel
UI skin for the first time, which is built around its super-smart
Google Assistant
.
Both phones have their own unique features, and both are targeted at different audiences. The LG V20 seems to be aimed at the photo, video, and music buffs, with its dual cameras, high acoustic overload points for the microphones (can record loud, loud noises), elaborate manual video mode, and quad DACs. The Pixel XL takes a more casual approach when it comes to hardware, with no extra bells and whistles or extreme bling. But it is Google's new platform for software concepts and solutions and the Android faithful probably have what to be excited about.
So, we wondered — now that both devices are up for sale, which one would you go for? We have to say, we expected more of a 50:50 result here, but it seems like the Pixel isn't as loved as Google might hope. Rounding up the results here — 60% said they'd love a V20, 30% said they'd get a Pixel XL, and 10% said they want nothing to do with any of those two devices. Do these results surprise you?