LG V20 Review
92
Note: This review is based on a Korean unit of the LG V20. The B&O Branding, as well as specifics related to the user interface and user experience, may not be available in other regions.
Update

: Read our LG V30 review!
Introduction
Power user – this is a term associated with individuals who operate a computing device with advanced skills and elevated privileges. In other words, that is someone who knows their gadgets inside out and, more importantly, who knows how to make the most of them. The
LG V10
was a phone suitable for that kind of folks. Released about a year ago in a limited number of markets, it was quite the unusual handset – large, rugged, and packed to the brim with outstanding features, including a secondary display, dual front-facing cameras, premium sound hardware, and full manual camera controls.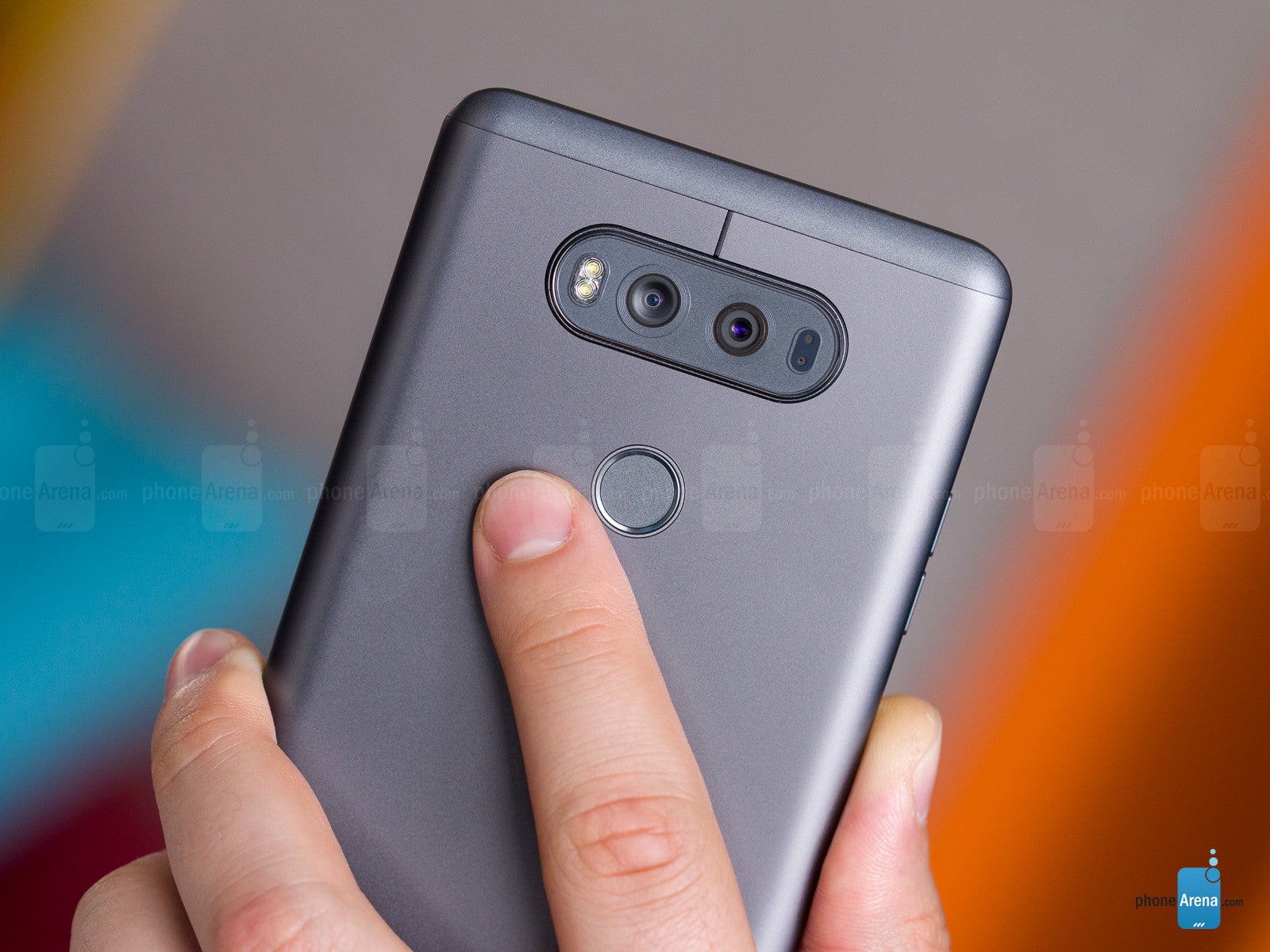 Fast-forward to present day, and the
LG V20
is here to pick up where the V10 left off. Sticking to the same formula, this new and improved model comes with a sizzling-hot specs sheet complemented by a list of goodies to wow the tech crowd. We're talking about an enhanced secondary screen, dual cameras at the back with full manual controls, a Quad DAC setup for superior sound reproduction capabilities, microphones good enough to record a concert in high fidelity, and all of that sprinkled with a sweet dash of Android 7.0 Nougat.
To say the least, the LG V20 is a phone that tech enthusiasts, audiophiles, and media creators would be intrigued by, but does it live up to the high expectations that it sets? I spent some time in its company to find out.
Design
Durability over grace is the main theme with this extra-large handset.
When the team and I saw the LG V20 for the first time, it wasn't a case of love at first sight. The phone appeared tough and manly, but lacked in elegance and sophistication, not unlike the Tumbler Batmobile. And you know what, I'd say that I'm okay with that, now that I've used the V20 for a while. Sure, it isn't gorgeous, but what it lacks in grace, it makes up for in durability.
The LG V20 is built of 6013-series aluminum alloy – a light yet durable material used in the construction of boats and planes. The strips at its top and bottom are made of 24% stronger polycarbonate. And just like its predecessor, the phone is MIL-STD-810G transit drop compliant, meaning that it can withstand more physical abuse than a typical phone.
Water resistance is missing
, however, so don't go selfie-snapping near a pool with this one.
One thing I should stress on is that the LG V20 is a large device. In terms of width and height, it ranks alongside the
iPhone 7 Plus
, the
Nexus 6P
, and its predecessor, the LG V10. Unlike the latter, however, the phone doesn't feel top-heavy. It has a better-balanced weight distribution, which makes it more comfortable to handle than the V10.
With the V20, LG is sticking to its unorthodox design approach of placing the power button at the back – at (or near) the point where the user's index finger would naturally rest. Those who are new to the idea might find it odd, but it is something one gets used to over time.
Embedded in the power button is a fingerprint reader. It gets the job done, as it is fast and gets the reading right almost every time. You place your finger on it (without the need to actually press the power button) to unlock the phone, and if you just want to take a peek at your notifications, you can wake the phone for a few seconds with a double tap on the screen. This setup could use some improvement, however. As I take the phone out of my pocket, I naturally put my finger on the reader, yet a reading is only sometimes performed – at that moment, the scanner may still be disabled because the phone is not completely of my pocket yet. This means I have to wait to see if my finger got read, and if it didn't, I have to lift it and place it again to unlock my phone.
You might have noticed that the LG V20 also has a small button on its side. Pressing it lifts the back cover, which in turn lets the user access the removable battery, as well as the SIM card and microSD card slots. While battery swapping can be considered a power-user feature, it is one I don't mind having.
Display
Small things also count, and the V20's secondary screen has its uses. Some tweaking is required, however.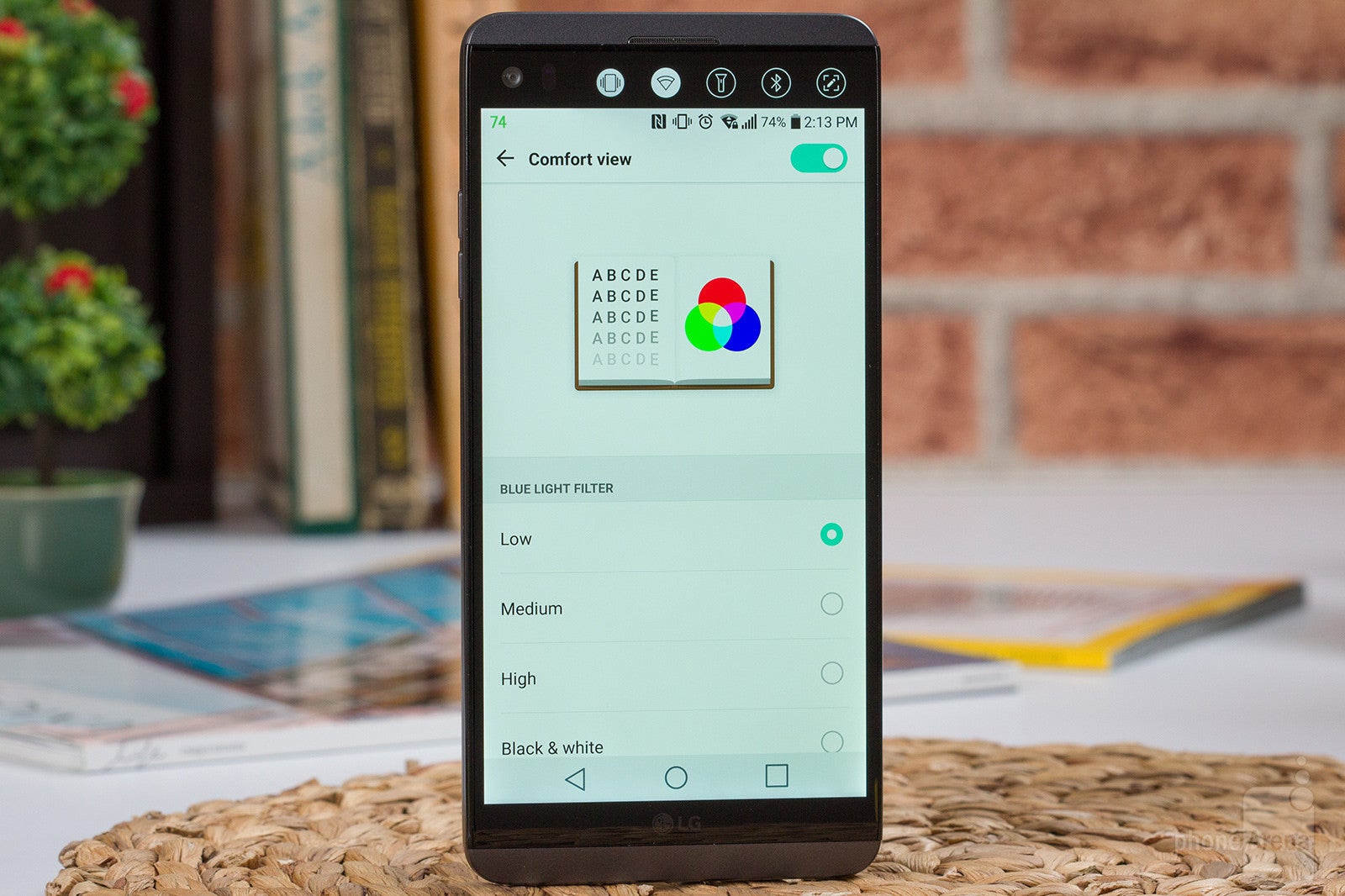 Although the LG V20's secondary screen is the one raising eyebrows, it is the primary one I'll comment on first. Its main advantages are its large size and high resolution – traits that make activities like gaming, watching videos, or web browsing, a pleasure. On the downside, this is far from the most color-accurate display we've ever tested. With a color temperature around the 9000K mark, the screen makes whites appear blueish. Sure, the average user probably wouldn't be bothered by that, but the flaw becomes glaringly obvious once you place the V20 next to a display with accurate color reproduction. A way around this drawback is to activate Comfort View mode on a low setting.
Now that I've mentioned it, Comfort View is a blue light filter built into the V20's user interface. Studies have shown that blue light might be messing with our sleep, hence it is a good idea to have the feature activated at night. (Although a way to get a good night's sleep is to not use your phone at all before bedtime.) And while Comfort View is nice having, it would have been better if I had the option for it to turn on automatically after sunset or at a predefined time.
That aside, night-time use is generally convenient, as the screen's brightness goes sufficiently low. And when out in broad daylight, I've never had any issues with the screen's visibility. It is bright enough to remain visible even on a sunny day.
Display measurements and quality
Second screen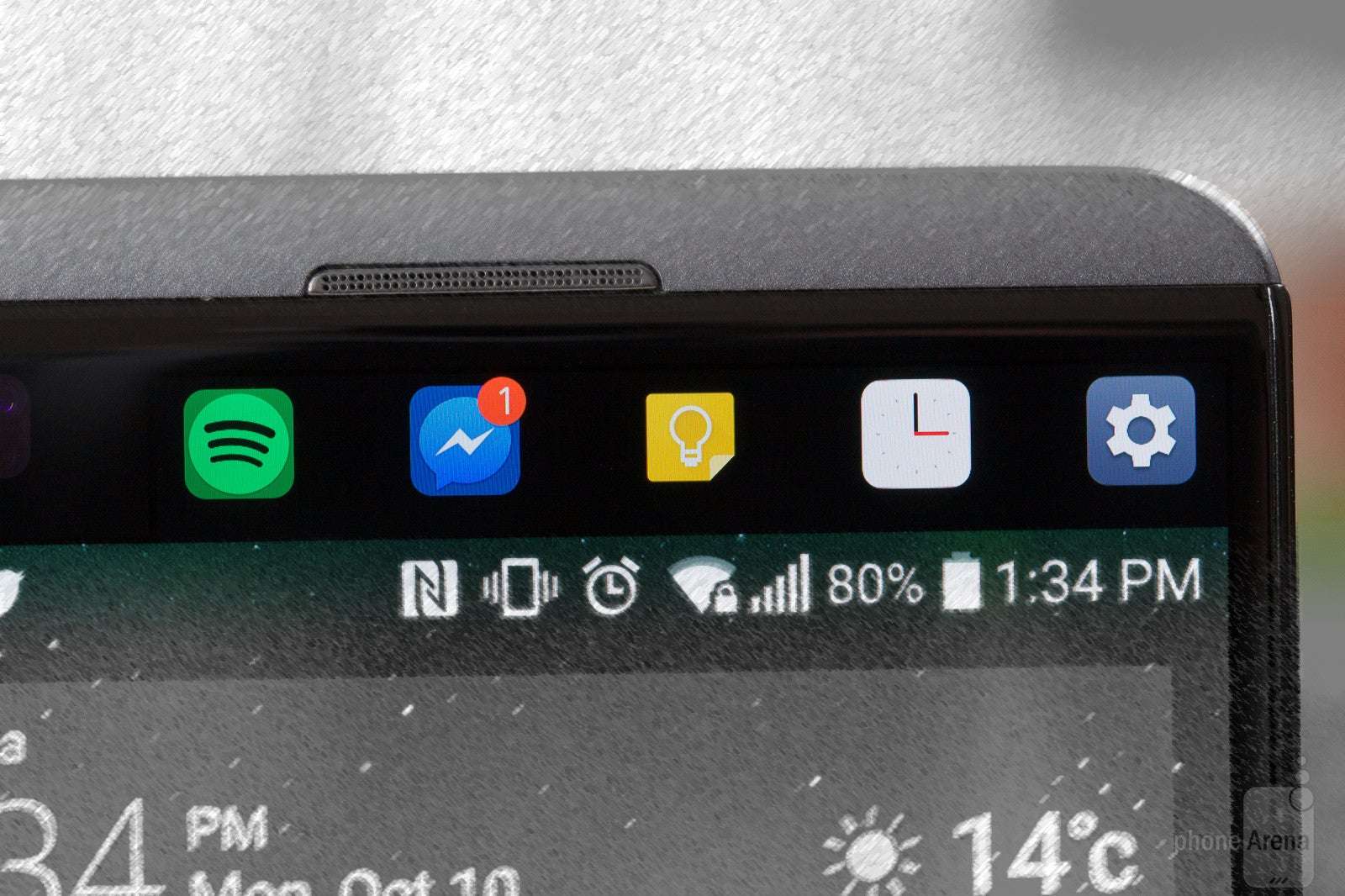 As for the secondary screen placed at the top, it is actually a nifty feature – one adopted from the V10. The screen is now brighter, however, and fonts are larger, which makes things easier to see, even at an angle.
For those not familiar, the purpose of the V20's second screen is to serve as a widget of sorts, available at all times, in any app. When the phone is in standby, it acts primarily as a notification ticker, but also gives you control over music playback and various quick settings. And if you don't like it for some reason, you are free to turn it off.
The key to making the most of the V20's secondary screen is to customize it to your needs. This will take a few minutes, but it will be time well spent, as some of the options prove very useful. For example, the screen can be set to list your 5 recent apps there, and you can switch back and forth with a simple tap. Or you can have shortcuts to 5 of your favorite apps. Media controls are also an option, meaning that you can access Spotify or the stock music player at any time.
To be clear, you're not limited to a single function. You can switch back and forth between screens by swiping left or right, and the ones I mentioned above are the ones I found most practical. You may also have 5 of your favorite contacts listed there, or a row of toggle buttons for various settings, or your next calendar event, or even a "signature" – a row of text that you can customize.
But the LG V20's second screen isn't quite perfect. One thing I found annoying was that when a notification arrives, it is shown only for a couple of seconds, giving me no chance to actually read it. Another botheration is that the screen, being placed at the top, is practically unreachable with one hand.
One more thing worth mentioning is that the second display consumes a small amount of power while it is on – enough to draw 1% of additional battery energy in under 2 hours. To reduce the amount of power it consumes, you may have it turn on only when the main screen is lit. You also have the option to have it turned off during night hours.