Plants vs. Zombies 2 update introduces Piñata Parties and a new zombie species
1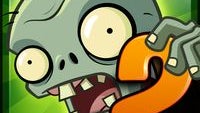 The latest update (v. 1.7.261064) to
PopCap's Plants vs. Zombies 2
adds zany new content to the adventure narrated by Crazy Dave. First, the map has been upgraded to make game progression quicker and easier - no more re-threading of old levels to progress, it seems. A roster of all-new Piñata Party levels has been added, along with special prizes. You can invite your friends to the fun, and send them gifts. Using the Turbo-button now speeds up planting, but also hastens the zombies, as not to ruin the challenge.
Also, beware! While PopCap were upgrading the game, somebody forgot to lock the cage where they keep the Gargantuar - a big ol' zombie with a pirate attire, carrying a cannon loaded with a mini-undead on his back, and armed with... a smiling shark! This is the formidable new zombie species that will haunt you after the update. We wonder if the Gargantuar has some subtle joking to do with
the renullcently released Assassin's Creed Pirates?
Plants vs. Zombies 2 is available free for iOS and Android.
Download:
iOS
|
Android