Pictures of the new version of Android market leak on the Internet
This article contains unofficial information.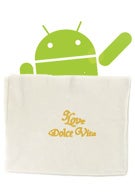 "Android Market has not been as successful as App Store and this should change ASAP! Let´s start up with the interface design". We figure this is what developers must have thought, judging from the pictures revealing the new version of Android Market. Allegedly, the images were taken with Motorola Sholes, that seems to run the Donut version of the operating system rather than Eclair that it´s expected to come equipped with when hitting the shelves later this year. In other words, you won´t have to wait for Eclair to take advantage of the new version of the online application store. What we can see in the pictures is visible alterations that seem to affect the way the app looks. There are new filtering buttons (Top paid, Top free, Just in) placed in a handy, more easily accessible location and you will have comfy folder overview.
Will the new version get its official announcement at the Motorola-organized event on 10 September we wonder? Well, let´s wait and see. Of course, we will keep you posted on any developments as they arrive.

source: CNEТ