Pictures of a new HTC heavyweight are showed-off
12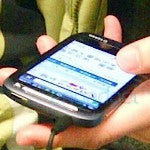 One of the upcoming HTC heavyweights seems to be a quite restless beast - first, its
rendered image
was leaked, and now rumours are going strong that we have the first pictures of its prototype unit.
The pics are a little bit blurry, and no information about what version of Android (and HTC Sense if it's there at all) this handset's going to run, but the fact is it looks a little bit like the
HTC Desire
. However, it's too early to claim with absolute certainty whether it is going to be a successor of the above-mentioned phone - either by name or by features.
What are your first impressions of this handset? There is every chance that we're looking at the new HTC flagship model, and it's cool that the Taiwanese manufacturer has included a front-facing camera - seems like everyone wants one these days.
It's highly probable that we're going to see this phone during MWC in Barcelona (14-17 February), and we will be there to tell you all the details about this and many more handsets as soon as they are available.
source:
Engadget