PhoneArena connects with AdDuplex at Build 2014
0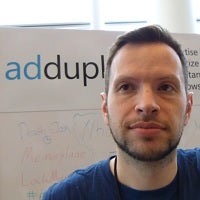 We had the opportunity to meet with the team from AdDuplex, a company that was created to help Windows Phone developers get attention to their apps through promoting their programs on other developers' apps' advertising fields.
These promotions are mixed with traditional ads on 80x480
pixel
blocks that are displayed in the same fashion we are accustomed to in ad supported applications. In a span of just over three years, the company has seen phenomenal growth, and it has become a visible figure in the space of Windows Phone.
AdDuplex was formed in Vilnius, Lithuania in January 2011. In just over a year, more than 1,000 apps were actively using AdDuplex as a means to promote and support the developers who created the applications. However, the growth was not immediate. Founder and CEO Alan Mendelevich explained that the first six months were nerve racking since it took about that long just to get the first 100 apps on board. That makes the growth to over 1,000 by April 2012 all the more impressive.
Later in 2012, AdDuplex released a software development kit for Windows 8, allowing devs to use the same resources that Windows Phone developers were enjoying. By November 2013, more than 5,000 active applications were using AdDuplex, providing tens-of-millions of ad impressions per day. Now in April 2014, more than 7,500 apps actively use AdDuplex. The growth has been manageable since the architecture is hosted through Microsoft Azure.
What has become a great tool for developers has also become an industry barometer. Mendelevich began sharing metrics of Windows Phone usage in markets around the world, by device type, and activity by mobile carrier. He started the practice as just a "thing to do" since the other major players, Microsoft and Nokia, do not share their data. It has become a regular task now that the data is so widely distributed.
While it is not a perfect overall industry snapshot, the trends reflected in AdDuplex's statistics reports do mirror activity in a lot of ways. For example, seeing the share of Nokia Lumia 520 activity in India was later confirmed by Nokia's own report of stellar sales. That was again reconfirmed during the Build 2014 Keynote as well.
AdDuplex is more than just about delivering advertisements within apps. The concept of having each developer's apps get promoted through the same engine helps them build scalability to gain needed exposure which, in turn, helps them monetize the app to get a financial return for all the hard work.
To developers, the results are growth through mutual promotion. To us as users, the results look like ads, or app promos in a small little window. To us as enthusiasts, the results look like a mobile operating system activity report from markets around the world. On the whole, AdDuplex touches the Windows Phone and Windows ecosystem in a pretty unique way.