PhoneArena Portal: Announcing the Axon by ZTE
5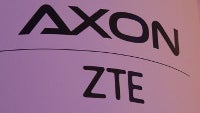 What is the Axon phone? That's what everyone was asking and wondering prior to the phone's unveiling yesterday in New York City. In our latest episode of our PhoneArena Portal series, we're quickly going to talk about what shenanigans went on during the hyped up event.
Previously, there was very little attention or interest in the Axon phone, but after it was made known that it was ZTE behind the hush marketing campaign, everyone's focus quickly shifted in a heartbeat. When you're a company still trying to break into the high-end segment of the US smartphone market, you've got to do some unorthodox things to raise interest from consumers.
So with that, they started off things by having a performance from Nosaj Thing, which was undeniably psychedelic most of the time, but it fit the mood and atmosphere of ZTE's discrete intentions. Afterwards, the floor opened up to the actual press conference where the company made some bold claims about its business. We agree that they're a strong player in the prepaid market, but their claim of having at least a 15% share of the phablet business is a bit ambitious in our opinion.
Despite that, the phone certainly makes some noise for its impressive specs sheet, the technology employed in it (think dual camera system and hi-fi audio), and how it undercuts many of the flagships out there now with its $450 outright, unlocked cost. A lot of talk was centered around the open market, but it's still somewhat unflattering knowing that this unlocked phone's reach is limited to the GSM carriers – sorry CDMA carriers, you're out of luck with this one.
We won't go into too much detail about the phone, since you can read it in our
hands-on article
, but we'll leave saying that it's about time that ZTE has put out a wicked high-end phone in the US. Check out the video below and some of the event photos too!