PhoneArena Portal: AT&T Summer 2015 Technology Showcase
1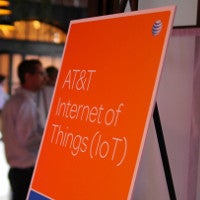 Welcome to our first installment of PhoneArena Portal, our new series where we take you, the readers, on a quick video wrap up session with the various mobile events that we attend and cover. This first installment centers around the AT&T Summer 2015 Technology Showcase, which like last year's event, was held at the biergarten over at the Standard High Line Hotel in New York City. If you haven't been there, we'd highly suggest checking it out if you happen to have a knack for beer gardens in general.
Besides the wide selection of beers on draft, and the tempting dishes being served up, the showcase was filled with partners and vendors showing off the latest gadgets and services for AT&T. From new exclusives like the Samsung Galaxy S6 Active and Microsoft Lumia 640 XL, to the eclectic array of car & home connected devices, there were plenty of cool things that we were able to scope during the showcase.
Rather than going into detail about every single thing at the showcase event, we thought it'd be a better idea to simply show you folks a quick video summarizing what we were able to check out. While you're watching the video below, don't forget to look at some of the photos taken at the event. Summer's just starting, so we're hoping to have more installments in this series soon. Stay tuned folks!