Pebble adds notifications for iOS 7, releases SDK 2.0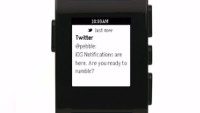 Pebble smartwatch owners who pair the timepiece with their Apple iPhone, should see an update in the App Store later today that will introduce a new notification system that works with iOS 7 flavored iPhones. Currently, the smartwatch can pass along notifications about emails and messages. After the update, any event that shows up in the iOS 7 notification center will be passed along to the Pebble watch.
After installing the Pebble iOS 7 app, Twitter, Instagram and Facebook notifications will show up on the watch. Even notifications from third party app WhatsApp will appear. While this could have been achieved previously via a jailbreak, now it merely requires the installation of the updated app. In addition, Pebble also introduced SDK 2.0 which will allow developers to use Pebble's APIs to come up with more health and travel related apps, weather alerts and more.
Pebble is currently on 190,000 wrists world-wide with 2200 apps and watch faces available to users. So far, 2 million apps and faces have been downloaded.
source:
Pebble
via
MobileBurn
Recommended Stories