Pandora announces new integration with Instagram Stories
0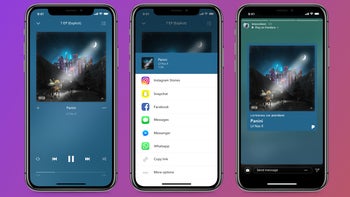 While Spotify
introduced last week
the option to share music on Facebook Stories, Pandora is bringing new integration with Instagram Stories so that you can share your favorite music on any social network accounts that you might have.
According to
Pandora
, sharing content on Instagram Stories start rolling out to limited Pandora users today, but everyone should have the option available to them over the coming weeks. If you feel like you want your Instagram followers to know that you like a certain song, you can now tap "Share" and then "
Instagram Stories
" on the Now Playing screen.
Once the special Cover Art card for the music or podcast that gets automatically generated on your Instagram Stories, you'll be able to add text and stickers and share as a Story. Also, you can send it as a direct message to a friend, a group of friends, or all of your followers.
Pandora says that each of these cards that you share will have a distinctive color dynamic based on the music or podcast's original cover art, which means that each Pandora share on Instagram Stories should be unique.
Instagram users seeing the Cover Art card shared will be able to tap "Play on Pandora" to get direct access to that content, as well as Pandora's full music and podcast library. Even those who don't have
Pandora Premium
can access shared content, as well as a session of free, unlimited, on-demand music and podcasts after viewing a short ad.