Palm Pre to have limited supply at launch?
2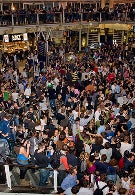 Ok,
the big news is out
. We know the date of the Pre's launch and the pricing. But one thing we didn't consider was if there would be enough units of the phone to satisfy demand on the day of release. According to MobileBurn, a tipster who works for one of Sprint's retail partners told them that only 30,000 Pre's would be available for purchase on launch day. Unfortunately, that number is in a vacuum and we really can't tell if it is referring to the total number of units across all distribution channels or if it deals with a single source of product; at any rate it looks like a lot fewer handsets will be available on June 6th than originally thought. Even Sprint's CEO and star of commercials Dan Hesse confirmed this when he told Reuters, "We don't intend to advertise it (the Pre) heavily early on because we think we are going to have shortages for a while."
If you plan on waiting on line to pick up the Pre on June 6th, there still is time to start training because there are going to be some massive lines snaking their way around Sprint stores throughout the country on that day. There will be pushing, shoving, biting and kicking and that will just be the news media trying to get a good shot of the event for the news.
Palm Pre Preliminary Specifications
|
Hands-on
source:
MobileBurn