Palm Pre comes on June 6 for $199.99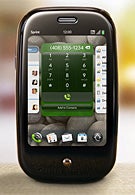 Well, it has finally happened –
Sprint
has put an end to all speculations and rumors by officially announcing that the
Palm Pre
will be available on
June 6
(Saturday). The Pre will set you back
$199.99
with a two-year service agreement and after a $100 mail-in rebate, but in return, you will get the much-much-anticipated phenomenon the Pre is and all of its highly popularized features, such as the Palm Synergy, which will try to bring personal and business contacts, calendars and so on into one, centralized view. The price of the Touchstone charger has also been announced – $69.99.
And… that is it – you will be able to get the Palm Pre at a number of stores, including Best Buy, Radio Shack, Wal Mart and online.
Palm Pre Preliminary Specifications
|
Hands-on
source: Sprint
If you have some interesting info that you'd like to share with us, feel free to
Tip Us!