OnePlus 5 teardown confirms three-layer design, chips hard to replace
2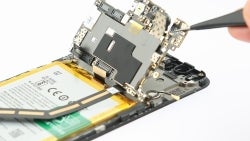 The
OnePlus 5
got the teardown treatment at MyFixGuide's facility. Teardowns are always great for an uncensored look at a smartphone's innards, so here are some of the photos the editors took, alongside interesting observations. Like the OnePlus 5's design itself, there's nothing all that exotic to be encountered during disassembly or repair.
The handset is still using a three-layer build where the uppermost layer is the motherboard, the middle is the battery, and the lower is the loudspeaker module. The motherboard and battery aren't covered in graphite stickers, which is unusual for most electronic devices. There's no excess adhesive to be encountered, and most components are modular.
The editor also noted that OnePlus hasn't changed the fast charging system – it's still set to 5V, 4A like on the OnePlus 3T. Something to watch out for is that a metal shield is directly welded to the motherboard, compromising access to chips. Another potential problem is that the camera connector can easily go loose.
Now that we know what the OnePlus 5 looks like both inside and out, feel free to check out the rest of our coverage in the links below! The rest of the photos are available at the source.
ALSO READ