OnePlus 5 hands-on: the affordable flagship grows up
10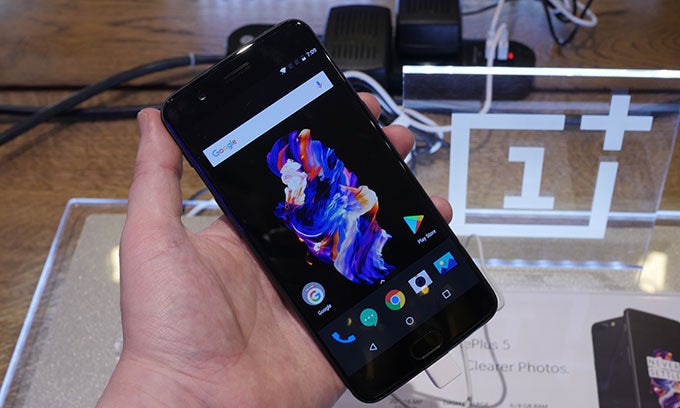 OnePlus may have started out trying to grab the attention of smartphone shoppers with
handsets featuring jaw-droppingly low prices
, but the company's MO has been evolving in recent years. While low prices are important, they're not the be-all-end-all of the OnePlus strategy, and even though pricing's been creeping up over the years, we've been getting some more and more impressive phones out of the deal.
This week,
OnePlus announced its latest, the OnePlus 5
. With a high-end processor under the hood, giant buckets of storage and memory at users' disposal, and an all-new dual camera system ready to let you zoom in on the action, is it finally past time you started considering a OnePlus phone over some more mainstream flagships?
We stopped by one of the company's
launch-day pop-up stores
to get to meet the OnePlus 5 in person, and give you an early look at what you can expect from this plucky, still somewhat-unusual flagship.
Design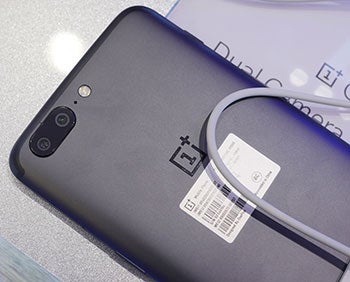 Picking up the OnePlus 5, the first word that may enter your mind to describe its construction is "sleek." Measuring just 7.25mm thick, with smoothly curved edges and a solid-feeling aluminum body, the OnePlus 5 is a phone that looks more premium than we'd expect from a model starting under $500. The second thing you're likely to think is "iPhone," as more than a few design elements seem to borrow heavily from Apple's playbook, including the phone's antenna lines and the placement of its dual real cameras in the upper-left of the handset's back.
Around front, we've got a good-sized 5.5-inch screen, and perched below that is the phone's fingerprint scanner. Moving further down still, we find the speaker grille, USB Type-C port, and a still-present analog headphone jack.
Continuing our way around the phone's sides, we find one of the more unique features to grace OnePlus phones, the dedicated do-not-disturb switch. With a flick of your thumb, you can toggle the handset from loud and proud, to vibrations only, to fully silent. And when you realize too late that you forgot to mute your phone before a movie starts, that easy-to-reach switch can prove much appreciated.
If there's one big downside to the construction of the OnePlus 5, its that OnePlus didn't see fit to give the phone any degree of waterproofing. That's a little surprising, considering how ubiquitous the feature's become on flagships over these past few years, and may have you thinking twice about the phone's long-term survivability prospects.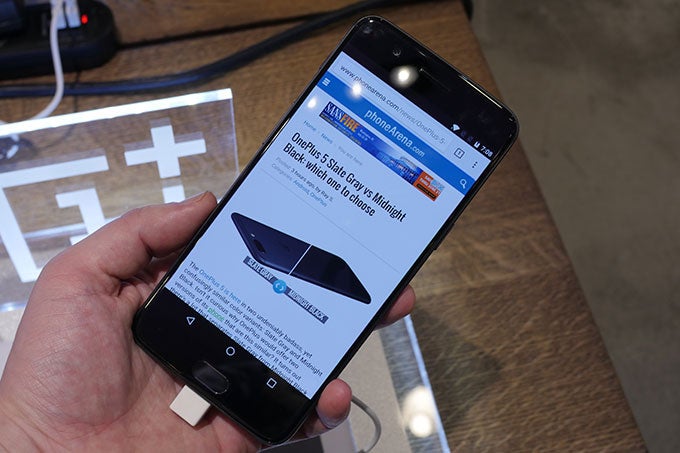 Display
OnePlus has given its latest smartphone a 5.5-inch AMOLED panel, and from our initial impressions of the screen, it looks quite nice: sharp and detailed. For those of you concerned with color accuracy, there are even multiple modes you can engage to get the gamut right where you'd like it.
Unlike the vast majority of 5.5-inch-class flagships out there, the OnePlus 5 has decided to go with a full-HD, 1080 x 1920 resolution display. That's not necessarily a bad thing, though, and far more than the differences in pixel density becoming increasingly difficult to resolve as we start heading north of the FHD space, there are power considerations to keep in mind; if you're not really gaining anything by having a 2K display, then why waste both battery life driving all those pixels, and processing power figuring out what to put on them?
User Interface
Oxygen OS continues to do Android its own way, but don't let the name make you think that this is some different beast: Oxygen isn't very far removed from the sort of OEM skinning you encounter on lots of other Android phones. While it doesn't skimp on features, it's also refreshingly lightweight compared to some of those more cumbersome alternatives.
The phone is powered by a Snapdragon 835 chip, just like heavyweights like the Galaxy S8 and HTC U11. That spells blisteringly fast performance, especially when paired with the near-bottomless glasses of RAM offered by the phone's 6GB and even 8GB configurations. Do you need 8GB of memory on a smartphone in 2017? Almost certainly not, but we'd rather have it and not need it than the other way around.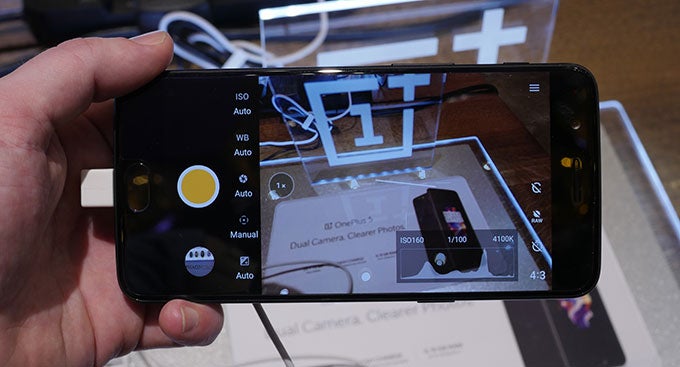 Camera
The biggest departure from past OnePlus models comes in the form of the
dual main cameras on the OnePlus 5
. Instead of making one color and one black-and-white, OnePlus is taking a page from the iPhone 7 Plus book of doing things and pairing a 16MP wide-angle camera with a 20MP telephoto one.
That versatility is really nice, letting you tap back and forth between the two cameras for an instant zoom effect, even when you're right in the middle of shooting video. The 16MP camera has a very wide f/1.7 aperture, which should afford the phone some quite nice low-light performance. The 20MP zoom camera may not fare nearly as well, as its f/2.6 aperture is much more restricted – you might want to save that one for outdoor filming.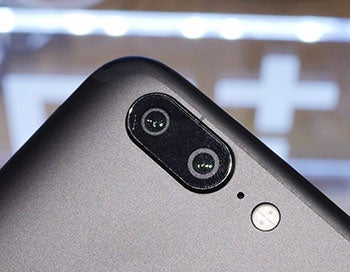 Another feature that can't help but remind us of the iPhone 7 Plus is a portrait mode, taking advantage of the dual cameras to help identify the background in shots and selectively blur it out, making the photo's subject pop.
The new zoom ability is great to have, but it doesn't come without a price, and unlike the camera on the OnePlus 3T, there's no optical image stabilization on the OnePlus 5. We're going to have to play with the phone's camera a little longer before we can say just what kind of impact that decision's made, so stay tuned for our full review.
Battery
OnePlus has made some tricky decisions in giving the OnePlus 5 the battery it has. The 3,300mAh component is lower capacity than the 3,400mAh battery on the OnePlus 3T, but the phone is slightly thinner, and the move to a Snapdragon 835 CPU should help reduce power demands. Staying at 1080p for the phone's screen resolution also definitely isn't hurting there.
More than capacity, though, the OnePlus 5's battery claim-to-fame is arguably its Dash Charge support,
the manufacturer's proprietary quick-charge system
, which is capable of sending the phone's battery from near-empty to mostly-full after just half an hour on the charger. That's impressive, but the lack of compatibility with more popular fast-charging schemes may prove problematic for when you're on the go and looking to borrow a friend's adapter. There's also not a trace of wireless charging support to be found.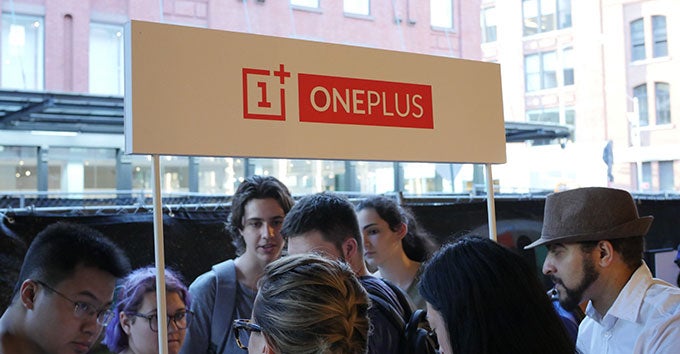 Expectations
With each iteration of its phones, OnePlus seems to be pressing closer and closer to the mainstream. The OnePlus 5 is still decidedly an "odd" handset, and makes some decisions that would find other manufacturers catching a fair amount of flack. But OnePlus phones have never really set out to be measured by the same yardstick as many other devices, and there's a certain grace to having the confidence not to be dragged down by smartphone-maker peer-pressure.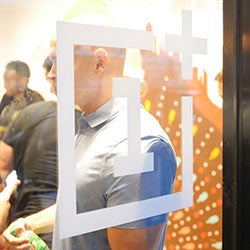 That said, the OnePlus 5 can be a bit shameless in how it borrows ideas from other handsets, and that's especially true in terms of the phone's design and camera feeling like they came out of Cupertino. But while that inspiration's hard to ignore, it's also somewhat satisfying to find a phone that's giving us all this without having to pay the "Apple tax."
OnePlus still has a long way to go before it moves beyond being a brand that's largely only on the radar of serious phone geeks, but those of you who have been paying attention to the company's offerings are going to be rewarded. By all accounts, the OnePlus 5 seems like a powerful, stylish, well-executed smartphone that can be had for a significant discount over similar models from other brands.
There are still a few areas where OnePlus might want to think about doing things differently – and waterproofing is definitely on our short list – but there still appears to be a whole lot to like here.
Sales of the OnePlus 5 open on June 27, where you'll pay just about $480 for the 64GB/6GB model, or $540 for 128GB/8GB. Look for PhoneArena's full review of the phone, coming soon.