Octa-core version of Samsung Galaxy S5 features 2.1GHz Exynos chip
11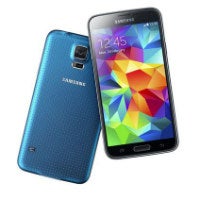 So as it turns out, Samsung is planning on releasing an octa-core version of its flagship Android handset. Just as the Korean manufacturer did last year, we'd expect to see North America and some parts of Europe receive the version of the
Samsung Galaxy S5
powered by a Qualcomm Snapdragon processor. This year, it is a quad-core 2.5GHz Snapdragon 801 CPU, under the hood of that model. International markets will be offering consumers a variant of the Galaxy S5 with an octa-core
2.1
GHz Exynos processor driving the phone.
Just to reiterate for those who are curious, the difference between the Qualcomm Snapdragon 800 and the Snapdragon 801 is that the latter supports a faster clock speed, which is why the CPU is running at 2.5GHz on the Galaxy S5. And there is one more difference. The Snapdragon 801 also supports a faster maximum GPU frequency (578MHz vs. 550MHz).
An
earlier version of the Samsung infographic
we showed you earlier Tuesday, revealed the octa-core variant of the Samsung Galaxy S5 (see below). That version of the infographic has since been removed by Samsung.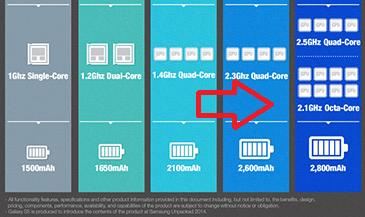 source:
Samsung
via
Engadget
,
GSMArena