OGT Tablet to be "the world's thinnest Android tablet"
4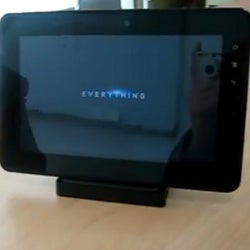 This may be the very first time you hear of the OGT Tablet, but chances are it won't be the last, as this tab is to pack a 188 ppi display (just for comparison's sake, the iPad 2's display features 132 pixels per inch, while the Motorola XOOM's one has 160 ppi), unspecified 1GHz processor and is set to be advertised with the catchy "the world's thinnest Android tablet" tag.
And, jeez, the creators of this tab really want to redefine the meaning of the word "thin" - we can't help but point out it's a wee bit thinner than anything else that has been announced in the tablet market so far - both the
Samsung Galaxy Tab 10.1 and the Samsung Galaxy Tab 8.9 stand at 0.34
, while the OGT Tablet is only 0.27. Impressive.
These things aside, the OGT Tablet will also offer two cameras - a 5MP rear one and a 3MP front-facer, as well as a microSD card slot. Both 3G and Wi-Fi versions of the tab will be available, and you will be able to choose between 32GB and 64GB models.
So far, so good, really. We don't know about you, but we are really waiting for the official announcement of the OGT Tablet.
source:
OGT
via
Android Central