Thin is in: Samsung Galaxy Tab 10.1 vs Samsung Galaxy Tab 8.9 vs Apple iPad 2 specs
25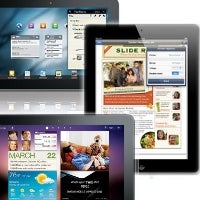 Not to be outdone by Apple, Samsung rushed back to the drawing board when it realized how thin Cupertino managed to make the iPad 2. The two skinny products of its labor we got our hands on at the CTIA 2011 are the reworked
Samsung Galaxy Tab 10.1
, and the all new
Samsung Galaxy Tab 8.9
, with the numbers indicating the screen size.
The Apple iPad 2 is already way ahead with 60 000 + applications written specifically for the tablet's screen real estate, whereas
Android 3.0 Honeycomb
is just now spreading its wings. Software and apps count aside, we decided to insert some of the important specs in a table, so as we can clearly see the specifics of the three thinnest slates ever announced.
We are comparing the basic Wi-Fi versions, as there is still no carrier announced for Samsung's tablets, although their cellular versions do HSPA+ 4G at
21Mbps
, faster than the Apple iPad 2, but HSDPA speeds are more for bragging rights, since no network can currently provide the peak speeds. Sammy's Galaxy Tab 10.1 and Tab 8.9 have higher screen resolutions and better rear cameras, which are able to record Full HD video, if that's your thing, and also offer expandable storage via microSD card slots to store those large video files.
Samsung's tablets are also a hair
thinner and lighter
than the already slick iPad 2, with the weight kept in check due to the plastic construction. Still, it is amazing what Samsung did for slimming the chassis on such a short notice, showing that it perfectly understands the market drivers, and has the capacity to innovate under competitive pressure.