O2 to launch its LTE network in the UK on August 29, iPhone 5 not on the guest list
1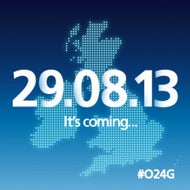 For the past nine months, EE has been the only wireless mobile operator in the UK offering LTE service to its subscribers. Things, however, are bound to change soon as another contender is joining the fun – O2. The carrier just announced that its LTE network will be up and running later this month – on August 29, to be more specific, covering several major cities at first, with plans for further expansion over time.
London, Leeds, and Bradford will be the first cities to be blanketed by LTE coverage from O2
, bringing the goods to about 5 million potential users. Then by the end of 2013, O2's LTE services will reach 10 additional markets, including Birmingham, Newcastle, Glasgow, Liverpool, Nottingham, Leicester, Coventry, Sheffield, Manchester, and Edinburgh.
As far as pricing is concerned, O2 will be offering LTE service to new and existing subscribers for as low as £26 monthly (about $39). Those who aren't entirely happy with the carrier's 4G service will be free to switch back to a 3G-based service plan within 30 days.
O2 has yet to announce which of its smartphones and other devices will be compatible with its 4G LTE network. One particular handset, however, will surely be excluded from the list, at least at launch - the
iPhone 5
. Although Apple's smartphone does support LTE connectivity, the bands that will be used by O2 are not compatible with the iPhone 5, meaning that those who own one and want to use LTE by O2 are in for a disappointment. Samsung's latest LTE-capable smartphones, on the other hand, should work just fine.