November 9th confirmed launch date for quad-core Asus Transformer Prime
22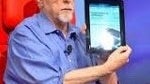 A couple of slides presented by Asus during an investor's conference on Monday confirmed
what was a poorly kept secret
. The manufacturer's sequel to the popular Asus Tranformer, the
Asus Transformer Prime
, will be launched November 9th with a quad-core Tegra 3 processor on board. While the second slide indicates that the tablet will be "leading" in
quad-core and Ice Cream Sandwich
, could this product actually be the first to be powered by the "Kal-El" processor and Android 4.0?
Asus also plans on launching
two Android flavored hero products
in the first quarter of 2012 and will "
Focus on innovation and product perfection
" according to one of the slides. The company also has some plans for Windows with Windows 8 powered tablets scheduled for the third quarter of next year with two hero products rolling out in Q3 of 2012.
The slides also took a look back at this year and Asus patted its own back for being the first to offer a "
real touch, real keyboard experience
" with the
Asus EeePad Transformer
. The company notes that it is a major player in both the Android and Windows tablet market, leading in Android Honeycomb 3.0/3.1 and 3.2 and in Windows 7. Asus also says it is the leading partner in the WoA alliance which will bring the Windows 8 tablets to market.
source:
SlashGear