Nokia's top man in the States, Chris Weber, discusses launch of Nokia Lumia 900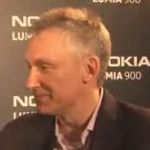 Laptop Magazine spent a few minutes with Nokia's U.S. chief Chris Weber and the topic was
the launch of the Nokia Lumia 900
. The interview was obviously conducted before the word broke about problems with the device and Nokia's speedy attempt to right the ship before it goes under. Weber basically discussed things like the Windows Phone app gap with iOS and Android, and the proprietary apps available for Lumia 900 users like those produced by ESPN, Sesame Street, CNN and others.
Weber's most important comments were what he called the "
customer experience
" with the phone and Nokia's hope that word of mouth would help bring buyers to the device. Considering that
secret shoppers visiting AT&T stores were apparently dissuaded from buying the Windows Phone flavored model
and instead pushed toward the Apple iPhone 4S,
it might require word of mouth
for sales of the Nokia Lumia 900 to multiply
.
When asked about what features of the phone would attract buyers, the price of the device was one of his responses. While he might not have known it at the time of the interview,
the Nokia Lumia 900 is free through April 21st
thanks to the $100 rebate that Nokia is giving buyers as compensation for the faulty software that the device launched with. As we told you earlier, a software fix will be available on April 16th and users of the device can either download the new firmware or exchange their unit for a new one. Nokia says that it already is shipping the phone to AT&T
with the new software
.
source:
LaptopMagazine
via
WMPoweruser