Nokia's Lumia 920 camera squares off against Samsung Galaxy S III in low light
99+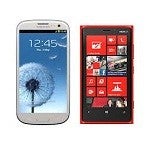 Another video has surfaced of the
Lumia 920
showing its camera prowess against the
Samsung Galaxy S III
, this time in low light. You may have seen the video where
Nokia set up a dark room to compare the Lumia 920's camera against the iPhone 4S and Galaxy S III
. The Lumia's sensor showed amazing performance against the competition.
Now, another comparison is performed in a dimly lit room, the Lumia again offers another stellar performance as it clearly outperforms the Galaxy's low light sensitivity. Of course, we are assuming that all the settings are similar to each other when these comparisons are being done. Still, seeing this is
almost enough to forgive Nokia for the whole fake video and photo thing
.
Check out the video below. The more we see of the Lumia 920, the more we cannot wait to get our hands on one and put it through its paces. Tell us what you think!
source:
Neowin.net