Nokia unveils the Supernova line
3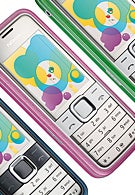 Nokia just announced the existence of its Supernova line, which was
first noticed
in the beginning of this month. The first four devices feature a mix of "bold" colors and exchangeable covers, in order to attract as many customers as possible. They are expected to hit the European market later this year.
Nokia 7610 Supernova
is a slider that not only comes in four colors (blue or red plus gray; lilac or blue plus white) but the user can also set the wallpaper and key illumination to "any" color (
Nokia 7900 Prism
offered 49 colors so we guess this is also the situation for the 7610).
It features a 3.2-megapixel camera with dual-LED flash, dedicated music key, player, FM radio and TV out. Expect it in the third quarter at a price of EUR 225 ($355)
Nokia 7510 Supernova
is a clamshell but in order to be opened easily with one hand, it has auto-opening mechanism activated by a side key. Its color variants are in blue, red, green, and espresso brown. Features include 2MP camera, 2.2-inch QVGA display, MP3 player and FM radio and a new "user friendly" web browser. As the previous one found in S40 phones was far from good, we hope this one will be able to compete with what Sony Ericsson offers in its phones (for example the
G502
). 7510 will launch in Q3 at a price of about EUR 180 ($280).
The
7310 Supernova
is a candybar, available in steel blue plus additional front and back cover in either wasabi green or pink. Additionally, five other color faceplates will be available for purchase. It features 2-megapixel camera, MP3 player and FM radio. According to Nokia, it "is available in the second quarter of 2008", which ends in three days, so it is the first to hit the shelves. Price is approximately EUR 155 ($245).
Last is the other candybar, the
7210 Supernova
, which is the simplest and most affordable of all. It will be available in either bubble gum pink or blue variant, in the third quarter of the year for EUR 120 ($190). It also features 2MP camera and music player with expandable memory.
source:
Nokia