Nokia pokes fun at HTC: Lumia phones can be used with gloves in winter time, unlike HTC's handsets
78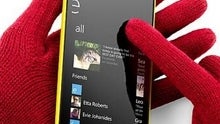 As you may already know, Nokia's latest Windows Phone Lumias have touchscreen displays that
can be used while wearing gloves
, thanks to a touch layer developed by Synaptics. While this isn't exclusive to Nokia, many recent smartphones can't be operated with gloves on. This is the case of HTC's One, One Mini and One Max Android devices, all released last year.
Yesterday, after HTC Russia asked fans on Twitter how to use a phone in the cold without taking off your gloves, Nokia replied quickly. The Windows Phone device maker simply said that you can "quietly enjoy" using your handset while still wearing gloves if you have a Lumia, adding a photo of the affordable 520 being operated like this. The reply must have left the guys over at HTC a bit frustrated.
Being able to use your smartphone with gloves on is definitely something you'd like if it's really cold outside. Of course, not everyone around the world knows how it is to live in a cold climate, but in Russia, most of Europe, Canada and northern parts of the US winters can get pretty harsh. So here's an advantage that Nokia's Lumia line has.
Update: Huawei joined the fun and
replied to HTC
with a photo of its Android-based Ascend P6 (also usable with gloves).
sources:
HTC Russia
(translated),
Nokia Russia
(translated) via
W7phone.ru
(translated)