Ski winter? Phone displays that can be used with gloves and nails
16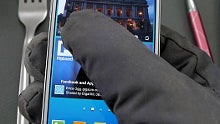 Nokia might have marketed the gloves-on and fingernail craze with the supersensitive screen on its
Lumia 920
, but before that we had Sony's
Xperia sola
which received a glove mode with the Android ICS update. Since then a bunch of major manufacturers jumped on the bandwagon. It's a pretty useful feature, especially when you live in cold climates, or are heading to the ski slopes on a regular basis, not to mention if you are on the construction project every day and get a phone call, or if you are a race driver. On second thought - don't answer that phone call during your NASCAR race, you are not Jean Girard!
The common thread among all phone makers that introduced smartphones with supersensitive displays is the
touch layer made by Synaptics
- a Californian company you might have not heard about, but which has likely made the touchpad on the very laptop you are reading this with.
Synaptics' engineers have managed to produce a powerful touch controller, which can use sophisticated algorithms to determine if the electric field, created by the touch sensors in your display, is being disturbed by a finger, glove, nail, stylus or another object, and weed out the noise from simple rubbing in your purse or pocket. This way you can answer a phone call or unlock the display to read an incoming message without having to remove your glove on the ski lift, or having to trim your ghetto French manicure.
We are rounding up a few of the smartphones with supersensitive displays that are out and about right now, in case you need to know which ones you can trust heading for the slopes.