Nokia is working on a bendable display
2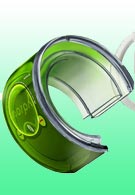 Currently
Nokia
is not a manufacturer offering most fascinating cell phones and everyone is impatiently waiting to see changes in the interface of the handsets of the company, especially in their smartphone range. The Finnish giant has, however, showcased thrilling concepts on several occasions, like the
Aeon
and
Morph
and it seems one more, namely bendable displays, is on its way to become part of our lives relatively soon.
The information comes from a patent that Nokia has already registered and it reveals interesting details about displays that can change their physical form. Any device equipped with such a screen would probably have to feature interface that switches between modes depending on the current shape of its display, which is yet another challenge that software developers would need to address. The patent describes the integration of such displays into cell phones, but there are indications that the technology is applicable to a wide range of consumer devices like music players, notebooks etc.
We will certainly keeps tabs on any developments relating to devices equipped with bendable displays, although we don´t really think it´s quite likely that we see any in the next 2-3 years.
source:
US Patent & Trademark Office
via
GoRumors