Nokia introduces the 7900 Crystal Prism
0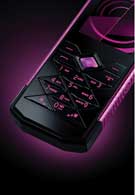 Nokia 7900 Crystal Prism
. Designed by Frederique Daubal, the new look of the Prism is a combination of unique laser-etched graphic designs, distinctive wallpapers as well as exclusive accessories to the phone. Apparently, the new design aims to attract even more fashion and style concerned customers. The D-pad has "Crystal design", similar to the "Sapphire" navigation-key of the
8800 Sapphire Arte
.
The Nokia 7900 Crystal Prism comes with a 2 megapixel camera, 3G technology for fast and easy downloads and browsing, 1 GB of internal memory and a music player with matching headset basically the specs are unchanged from
the original 7900 Prism
. The user can also personalize the color of the light in the keymat choosing from 49 different colors. The phone will be available in Q1 of 2008 at $544 (375 Euro).
Nokia 7900 Prism Review.
source: Nokia