Nokia goes into crazy ads mode: see a dog eating iPhone 5, and Angry Birds played with a banana
28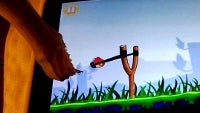 Nokia's Facebook page seems to be living a life of its own when it comes to
touting the new Lumia phones
and taking jabs at the competition. Nokia is no stranger to wacky commercials, which are
always entertaining
, but those on Facebook mix works of art with some pretty far out there bits.
Take the dog that just tore apart a retail box with the handset in it, for example, looking suspiciously like an
iPhone 5
. It looks up the camera with that adorable expression dogs have when they have just eaten the whole steak off the kitchen tablet, and the tagline says "
Forget about this one, now you can switch to Lumia
", as part of Nokia's "Time to #switch" campaign. That's from Wednesday.
From today, we have someone demonstrating how you can play Angry Birds with a banana on Nokia's ultra-sensitive touchscreen, that will see the light of day for the first time in the
Lumia 920
. The banana-operated handset is in fact a
Lumia 900
, and you can operate any capacitive touchscreen this way, or with a sausage for example, so it doesn't really showcase
the Lumia 920 strength, which is in cutlery operation
, but it's fun to watch.
What do you think about the way Nokia is taking with commercials lately - likely to backfire or taking the competition head-on?