Nokia Lumia 800 massive London event now posted on YouTube
10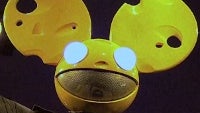 Nokia is certainly not saving any of its shrinking riches to
promote the first Windows Phone
, the Nokia Lumia 800, and rightly so - the platform definitely needs all the publicity it can get if it wants to get some traction after more than a year on the market.
After Microsoft showed off its affection for big live tiles by lighting up a building in Manhattan for a day, now thought it was time to bring the volume up a notch and add even more impressive visuals. It chose London's Millpark skyscraper as the place where a massive light and sound show was to kick off featuring popular
Canadian DJ deadmau5
.
The whole event was focused on the Lumia 800, which showed up at the very end surrounded in live tiles and with a huge title:
"The Amazing Everyday."
The Lumia 800 has seen mixed reports about its initial sales with analysts placing them between 500,000 (pessimistic estimate) and 2 million (optimistic) for the quarter. Nokia has also put on a smiley face and says sales are doing a-okay, so we have no reason to doubt them. After such publicity, they should've jumped even further. Check out the video of the London event below and let us know your thoughts about the Nokia Lumia 800 in the comments.