Nokia announced 'beautiful to use' phones
2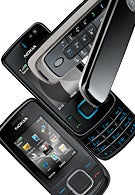 Nokia announced three new Series 40 phones, dubbed "beautiful to use": 6600 fold, 6600 slide and 3600 slide. They are mid-level devices, trying to combine easy to use and contemporary features with smooth design. Common for all three of them are the 16 million color QVGA display, Bluetooth 2.0,microUSB , microSD slot, FM radio and quad-band GSM support. The 6600 couple also supports 850/2100 MHz UMTS for global 3G. All of them are expected to be available in the third quarter of the year.
Nokia 6600 fold
is the first clamshell with "recycled" model number, therefore the word "fold" (others are "slide" and "classic"). Similar to the Nokia 8800 Arte, a double tap on the front surface will bring up the watch, as well as other service information, on the external OLED display. A double tap snoozes alerts and silences or rejects incoming phone calls. As the 6126/6131 device, this phone also has supporting mechanism which allows you to open the shell with a push of a button. The 2.13" internal display is also OLED , so we can expect it to be brighter than its TFT rivals. 6600 fold will be available for 275 EUR / $430 before taxes, in either mysterious black or sophisticated purple color.
Nokia 6600 slide
has the same design language but in a slider form-factor. As the fold, it has sensor which reacts to tapping, to indicate time, snooze an alarm and silence or reject an incoming call. Although slightly cheaper (250 EUR / $390) than the clamshell , it has bigger display (2.2"), and
3.2
-megapixel camera instead of 2-megapixel one. The rest of the features are identical, and although it has the same weight, it has steel covers and aluminium center key.
The
3600 slide
is slightly larger, stripped down version of 6600 slide, but is the least expensive of the three, at 175 EUR / $275. It also has 3.2-megapixel camera but its display is 2-inch and it lacks 3G and a sensor. It will be available in either charcoal or wine color.
source: Nokia