Nokia, Sony and LG to release new tablet warriors next year, 8" Lumia 2020 pegged for March launch
8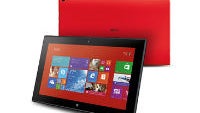 Tucked in a report that Nokia, LG and Sony will persevere with new tablet models next year, is the statement that an 8"
Nokia 2020
, dubbed "Illusionist", is on tap to be released in March, likely announced at MWC in the end of February.
We've heard already about
an upcoming 8-incher from the Finns
, but apparently the release is pushed for after Microsoft's acquisition of Nokia's Devices & Services division has fully played out early next year. Nokia's tablet is expected to sport a powerful quad-core Snapdragon 800 processor, and have higher pixel density than the
Nokia 2520
's Full HD display, meaning we'll likely see a Full HD display in an 8" form factor.
Sony is apparently also planning a successor to its excellent
Tablet Z
, the world's thinnest tablet, and LG will try to woo us with a
G Pad
heir, possibly powered by a
homebrew octa-core Odin processor of its own
. HTC, Motorola and BlackBerry are expected to stay put with any tablet plans, and focus on smartphones for obvious reasons, while Huawei and ZTE are said to push with low- to mid-range slates sold at carriers directly.
Samsung, Asus, Acer, Lenovo and, of course, Apple, won't stay still either, so next year might turn out to be the year of the tablet, in any size and specs sheet, just like this year could be called the year of the phablet, for we've never seen that many big-screen phone models released as in 2013.
Recommended Stories