Nokia PUSH and Burton to create connected snowboarding
0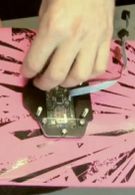 Nokia's PUSH project is all about expanding the possibilities of mobile devices, and now they're taking it to the mountain. Nokia PUSH and Burton Snowboards are collaborating on a project to map every element of the snowboarding process, and upload the data to the device. One member of the project explains that tricks could be uploaded to social media sites, presumably as exact graphic representations of the event.
Stuart Wells of Nokia's PUSH project explains that the process includes a myriad of sensors which will contribute to data that can be used by developers. End users might be able to use such technology to show off their achievements, evaluate their technique, or even fine-tune their riding setup.
The collaboration with Burton is inspired by the skateboarding version of the project, 'Solderin' Skaters', in which sensors are mounted in between the deck and the trucks (axles) in order to map the board's movements.
The launch of the beta is expected at next January's Burton Euro Open, and regular updates will be available at Nokia's PUSH blog.
source:
Nokia PUSH Burton
via
Daily Mobile