Nokia Messaging service to bring mobile email and IM to the masses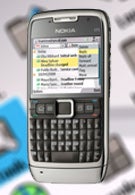 Nokia announced that it realizes how important mobile messaging is and believes that it should be available to everybody. That is why its new service called Nokia Messaging comes. The Finnish manufacturer will partner with key operators in various countries, to establish the Nokia Messaging as a data plan, which the users will purchase. This should result in a service more affordable for the customer.
What Nokia Messaging will do is to connect to your email account (up to six of them) and then push you the new mails, whenever there are any. Setup is simplified, and for most popular servers it will require only username and password. For those who do not have an email account yet, Nokia offers the Mail on Ovi online portal, with 1GB of storage.
Nokia Messaging will launch commercially in the first quarter of the next year, initially in eight countries - the United Kingdom, Spain, Germany, Australia, Finland, the Netherlands, Singapore and Venezuel - and then expand to others. The Nokia Messaging push email service is available today for free as a limited-period beta trial for S60 users. Instant messaging and support for Nokia Series 40 devices will be enabled in the second half of 2009.
source:
Nokia