Nokia City Lens and Transport apps to make navigating the urban jungle easier with the Lumia 900
4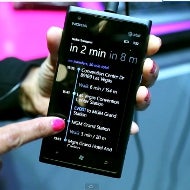 Nokia's navigation team is always cooking something in its dungeon, and two
beta apps
for the
Lumia 900
caught our attention.
Nokia's first LTE handset that is about to land on AT&T can take advantage of two apps that make finding your way around the city maze easier, and keep you aware of your surroundings.
Nokia City Lens is an augmented reality app that shows info about the objects and landmarks that the 8MP camera registers around you, and you can tap and expand the info about any POI.
The other app is called Nokia Transports, and takes advantage of the public transportation database it has for major cities. It shows you the quickest way to get from A to B using what the municipality has supplied in terms of transport. Multiple methods of moving around like metro, bus, trams, plain ol' walking and so on can be combined, and schedules plus arrival estimates are shown. You can even pin a Live Tile with a schedule of your choice to keep an eye on when the next vehicle will arrive straight from your homescreen, which is pretty cool.
The Nokia Transport app is still in beta, meaning its collection of 400+ cities and 50 different languages will be expanded, as well as that its functionality and reliability are a work in progress.
via
TheNokiaBlog