Nokia C6 firmware now available for the 52xx phones
0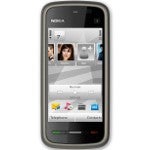 After a lot of hard work the guys at
PNHT forums
have managed to port Nokia C6 firmware to the Nokia 52xx phones, specifically the
Nokia 5230
(v21.0.004)
,
5228
, 5232 and 5233
(all running v21.1.102)
. It's important to note that this update is only a beta, which means that there are a few bugs that are still present.
Despite that, it's certain that a lot of people will appreciate the C6 update on their Nokia 52xx phones, especially after they take a look at the video below, which demonstrates how the Nokia 5230 is running C6 firmware.
Nokia may not be a world-beater in the high-end smartphone battle anymore, but it still does well in the low-end segment of the market with phones like the 5230 and 5250. That's why this software treat will come in handy for all the guys who are sticking with their well-tested Nokias.
You should be able to download the firmware through the link below, but you should take into account that by the time we're publishing this news article, the PNHT forum seems to be down.
source:
PNHT forums