Nokia 6.1 officially launches in the US as part of Google's Android One family
99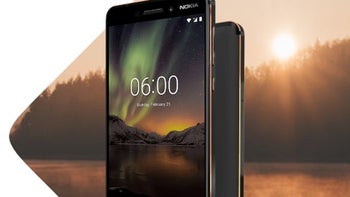 If you're planning to buy a new mid-range smartphone that doesn't cost more than $300 unlocked, as of this week, you can get an official US variant of the
Nokia 6.1
. Announced back in February (and known as
Nokia 6
2018 in some markets), the
Nokia 6.1
succeeds the
Nokia 6
of 2017, bringing improvements on almost all fronts.
Made out of aluminum, the Noia 6.1 employs a unibody design, sports a 5.5-inch 1080p IPS display with a traditional 16:9 aspect ratio, and runs Android 8 Oreo. The phone is part of Google's Android One program, which means it'll receive timely software updates for at least 2 years from now.
One thing that you definitely have to keep in mind is that the Nokia 6.1 is fully compatible only with GSM/LTE carriers like AT&T and T-Mobile, so getting it for Verizon, Sprint, or US Cellular is not a wise idea.
According to HMD Global (which develops and sells all Nokia-branded phones), the official US launch date of the Nokia 6.1 is May 6 - this Sunday. Both Best Buy and Amazon already allow you to order the new handset for $269 - via the source links below - but they won't ship it before Sunday. If you're not sure you need this new device in your life, our
Nokia 6.1 hands-on
might help you make a decision.